---
John Serrill-Robins
Licensed Real Estate Salesperson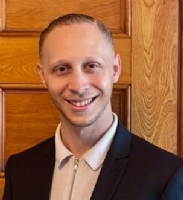 John Serrill-Robins believes in working hard with every client whether itís a rental or a two million dollar sale! His mind set is always about putting out positive energy and attracting positive results. Combining his way of thinking plus his experience in real estate makes a strong foundation! Ever enthusiastic, kind and hardworking, always motivated in meeting clients' needs, John faces each personís situation head on then shapes and tailors a course of action to achieve the best results.
If you are buying, renting or selling a home, John strives not only to listen but build upon your wish list by presenting ideaís and solutions to bring a deal to a close. In real estate you need the most educated decision.
A native Park Slope resident, but currently calls Sunset Park home, his profound interest in real estate was realized after his customer service-driven career in sales with West Elm. As part of a management team he focused his attention to detail and interpersonal building skills.
John is passionate about Martial arts and also loves music having learned the guitar. He additionally stays active working out. John has travel to the Galapagos Islands, Israel and England; his interest is to discover and explore new areas! But, New York City is always home.